This article first appeared on The Journal and has been republished with permission.
When I was in middle school in California, I went on a class hiking trip to Pinnacles National Park. There were only two other girls in class — and they bailed last minute, so it was me and all the boys. To this day, it stresses me out to remember how I held everyone up because I was so much slower.
So when I set off on our first hike during Adventure Tours Australia's 3-day Uluru Adventure in May, that pressure to not hold up the group immediately crept up. After all, I had just landed in Australia's Red Centre and my first impression with fellow travelers couldn't be that I was a slowpoke keeping them from fully experiencing all the spectacular sites.
Finding my place
Our group of 17 — 12 of who were solo travelers! — started down the Valley of the Winds hike around the domes of Kata Tjuta (also known as The Olgas). My favorite part of traveling solo is getting to know fellow travelers, so I immediately started chatted with girls from Korea and China.
As we swapped travel stories, I looked up and realized there was a huge gap between us and the rest of the group. Ah! I couldn't start off among the back already. Knowing myself, my fastest pace would be at the beginning, so I needed to build in a buffer. I wrapped up our conversation and sprinted ahead a tad, but then something stopped me: I looked up and realized we were completely enveloped by golden hues the sun was casting on the rock formations.
Suddenly, it didn't matter how far behind I was, I had traveled all the way from New York City to experience settings that didn't look like the urban jungle back home.
BOOK YOUR OWN ADVENTURE TO ULURU
I needed to take a moment and soak in the otherworldly views.
By the time I got to the Karu lookout 1.1 kilometers down the trail, the faster half of the group had already sped along to the optional second Karigana lookout, another 1.6 kilometers out. We were on a time crunch because we wanted to make it back to see the sunset on Uluru.
There was the option to stay here and chill. But I've never been one to opt out (what can I say? I'm cursed with fomo!), so I forged ahead. But as much as I love a good adventure, I've never been a strong hiker, especially on inclines. So my steps slowed and my nerves kicked in. Slipping and falling on day one was not going to be part of my itinerary.
I turned a corner and found a mountainside with a tiny blue arrow in the middle of the rock, indicating the path was straight up the middle. I wasn't used to this kind of pathway, but I paused and just went for it, slow and steady… eyes focused on the top of the hill, and on breathing slowly but surely. Knowing my group members were surrounding me on both sides gave me comfort and confidence.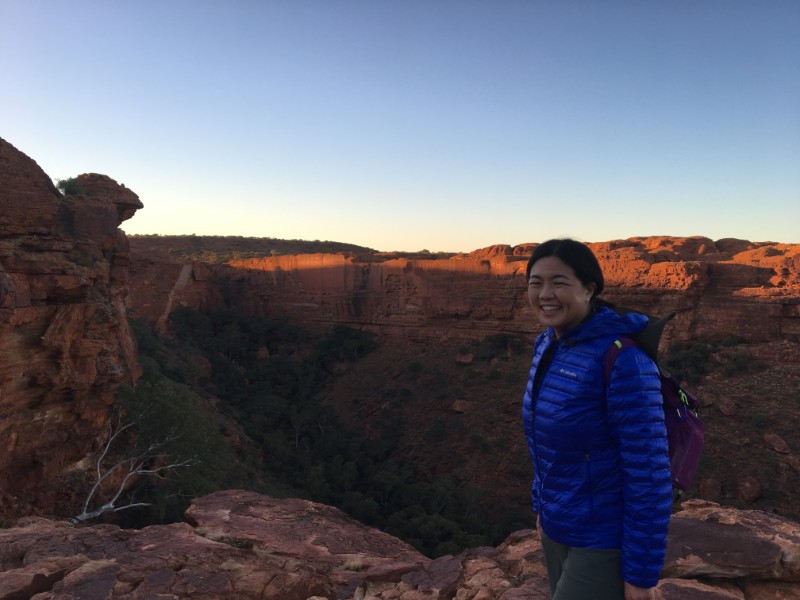 Soon, I realized I was back on flat land — I made it! Just as I was on an adrenaline rush from this new peak, I saw that the group was turning around. My leader apologized to me and said there was still another 0.75 kilometers, so it would mean cutting it too close for the sunset.
READ MORE: THIS IS WHAT IT LOOKS LIKE WHEN A BELGIAN BACKPACKER MOVES TO ULURU
As soon as we turned around, of course, I quickly ended back at the end again. When I finally got to van, it started pulling away. Oh no! I start waving frantically. How could this happen? I literally just saw someone get on the van a few steps ahead of me. That's when I looked up and realized they were just pulling my leg. The guide had sensed my panic and put some lighthearted fun into it. Yes, I did need to learn to laugh about this!
By dawn's early light
The next morning, we woke up before dawn for a sunrise walk around Uluru. Thankfully, this one was going to be a completely flat trail, but since it was dark, I got my gear together at the trail-head and put a headlamp on.
By the time I looked up, I was at the end of the group again. I jogged a little to keep up. After all, there was nothing to see yet in the dark. But step by step, the glow of the sunrise started to shine brighter and I found myself stopping to capture photos of the dazzling colors it painted on the impressive sandstone rock.
A bit into the walk, one of the girls stopped and asked me to take her photo. We exchanged roles as photographer and poser and continued on. 
Again, there was an option for a longer hike, but the van would be waiting at one point for those who wanted to take the shorter version. I was determined to make the full hike this time, so I carefully balanced my picture-taking stops with my speed to keep up. I had even turned on my RunKeeper app, so I'd know exactly how much further I had to go.
Right on cue, I saw the van waiting for a few of us. My guide waved me onto the bus. That's when I realized I was the first one that was too late to make the full trek.
I looked down at my phone: 2.41 miles in hour and nine minutes. Not good enough. But when we rode to meet up with the speed hikers, I realized I hadn't even missed out on much. The rest of the path was just along the road, so really, I got to see all the same sights – and in the luxury of the comfortable van. (Imaginary) crisis averted!
At some point later in the day, I realized I had solidified my reputation when instead of counting the 17 of us, someone asked "Is Rachel back? If so, we're all here!"
The king of all hikes
The last day of the tour was the grand finale of the hikes, following in the footsteps of the 1994 film The Adventures of Priscilla, Queen of the Desert through Kings Canyon. We started even earlier — already on the path by 5:30am.
Our guide had outlined the trail clearly: There was a shorter option on one side of the canyon, or the full rim walk, which started with a challenging ascend.
There was no way I was going to let my tentative ways hold me back from this one. But I also didn't want the pressure of people behind me, feeling like they had to slow down because of me.
I purposely took the last spot, but about a third of the way up, another gentleman in my group told me to go ahead. He explained that he had a bad knee and was taking it slow.
READ MORE: IT'S ABOUT TIME: ULURU FINALLY BANS CLIMBERS
I felt slightly guilty. After all, I know that feeling of needing space and wanting to be in the back, but I could also relate to how nerve-wracking it can be to have ailments (I'm in physical therapy for calf and hip issues) plaguing your adventures. So I led the way for him, keeping an even distance between the hiker in front of me, so that I'd be in his eye shot, if needed.
The path leveled out sooner than I expected and I joined my group who were sitting and watching the stunning sunrise over the canyon.
Just as I sat down, they started applauding. Eek! Were they poking fun at my speed again? Not at all — it was a genuine congratulations for the guy with the knee issues for making it up the mountain!
Throughout the nine-kilometer hike that took about three and a half hours, we traveled through a variety of terrains, and every time we stopped, the scenery was so spectacularly different that the road in between them didn't seem to matter. We pranced through the crevice that Priscilla walked through so fabulously, we found some Zen down in the Garden of Eden, and we wound our way through the sandstone domes of the Lost City. Most importantly, we stuck together. 
SUBSCRIBE TO OUR NEWSLETTER FOR TRAVEL TIPS, COMPETITIONS, GIVEAWAYS & MORE
The final bit back to the trailhead was downhill — my biggest weakness and where I really show my slow speed. As we proceeded down, there were four of us in the back of the pack together. Most of the time, I found myself in the last spot, but at one point, the American father had me go first. I figured he was being kind, keeping an eye on me.
But as we started to chat, it turned out, he was recovering from a leg injury and needed to take it slow too. We kept talking as we headed back to the van. At the very last moment, he stepped aside and let me get on first. Just as I climbed on board, one of European girls said, "Yay, Rachel! You're not the last one!"
While I only inched into 16th place because of the my fellow traveler's chivalry, it also made me realize that I shouldn't let the pressure of feeling like I'm always the back of the pack take away from my adventure. That's the beauty of small group travel — getting to know everyone and understand their stories… and appreciate each other, no matter what their pace is.
Ready to experience the standout beauty of Uluru? Check out our range of small group adventures that go there.
—
(All images c/o Rachel Chang and all taken on Adventure Tour Australia's Uluru Adventure tour.)